Of all the homes and businesses once on the Pembina Highway, it is the last of that vintage still standing on the west side. During the latter part of the 19th century, a hotel run by Napolèon Lemay was on that property, a short distance from the railway station.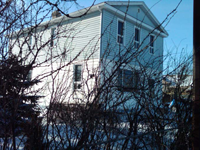 In 1912, the old structure was torn down by the new owner, Cyrille Leclaire (1874-1946), to make way for a two-storey boarding house/restaurant. It appears the Board and Room facility came about to discourage residents to introduce a liquor outlet in a new hotel. Earlier, the sign read "St. Norberts House", but was known as "Leclair's Cafè" until c1956. It was a stopping place for salesmen, members of snowshoe clubs and Sunday drivers late into the 1930s. Orders for chicken dinners were ready within half an hour. In addition to his wife (nèe Marie-Louise Laporte), the business employed a few locals to wait on the tables and set up the rooms. There was a telephone connected early on.
Son of pioneer Michel Leclair (on the first RM of Fort Garry Council) and Annie Leroux, Cyrille was born in Quebec before the family came to farm at Lot 78 Turnbull Drive, site of the present St. Norbert Provincial Heritage Park. He married in 1898. There were no children. A street name in Richmond Lakes remembers the pioneer family.
The restaurant was a small main dining room and two smaller private ones with huge mahogany tables. Fried chicken, boiled potatoes, cabbage, pickled beets and dills, (corn on the cob season) and fritters in maple syrup, were the menu as early as the 1920s. The vegetables were home-grown. The price of the meal in the late 1940s was $1.75.
In 1924, Albini Toupin and his wife started working at the Boarding House, purchased the business in 1940 and moved upstairs.
The house was the residence of Wilfred Dowbiggan in 1990 (Henderson Directory for that year). It now appears to be a duplex.