Labelled 'a character cutie' when put up for sale during late summer 2010, this two-storey frame dwelling was built in 1902-3 by carpenter Bruno Verrier (1863-1926) for his family.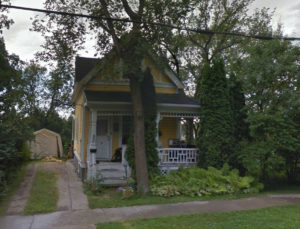 Subsequent residents were the J.-B Lavery family and Auguste and Bernadette (nèe Ferland) Ritchot who occupied the home for nearly four decades.
Renovations over the years saved many of the interior features including main floor boards. The gingerbread trim on the porch was also retained.
It is the first house on the La Salle River side located east of a small park as one turns off Pembina Highway. Its location and attractiveness often led visitors to think of it as a bed and breakfast establishment.
A street in Richmond Lakes remembers the Verrier family.