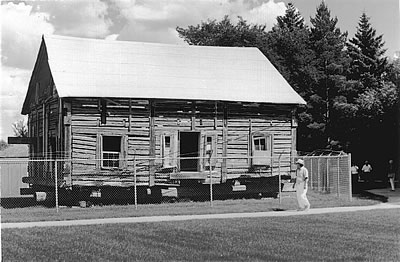 Pierre Delorme (1831 – 1912) was born at St. Boniface, Manitoba. His father was Québecois and his mother, Métis. Pierre married Adélaïde Millet dit Beauchemin and raised a family of 13 children. In the mid-1850s, he settled on River Lot 21 at Pointe Coupée (St. Adolphe) south of St. Norbert, where he built the family home.
The 1 1/2 storey structure was built using vertical uprights at each of the four corners as well as at intervals along the walls. A longitudinal groove was cut into these posts and tongued horizontal logs were inserted between them. Spaces between logs, inside and outside, were chinked with a mixture of straw and mud. In Manitoba, this construction procedure was known as Red River frame.
Delorme combined freighting, merchandising and farming with the more traditional practices of the buffalo hunt. In later years, his home was used as a way station for stage coaches on the Pembina Trail, which served travelers between Fort Garry and St. Paul, Minnesota.
Pierre Delorme's education, relative wealth and family connections made him a natural leader among the Métis of St. Norbert. During the Red River Resistance of 1869-70, he was a close ally of Louis Riel.
In September 1870, Delorme was appointed Justice of the Peace for St. Norbert and at the first provincial elections in December, he was elected member for St. Norbert South. He was also the first Member of Parliament for the federal riding of Provencher.
Pierre Delorme's house was donated to the Province by Mr. and Mrs. P. Vernaus in 1982.
More Information