The origins of Heritage Saint-Norbert can be considered to be with the issue of the Français school in St. Norbert which created a division among residents in the 1970s. A few citizens got together to meet with representatives of both sides of the argument. This brought together like minded people who, as a result of the discussions, were better informed about the community and more aware of its past.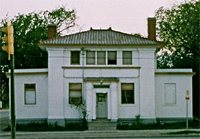 Another event that suggested the need for more awareness of what was going on around us was the sudden disappearance of the old bank building at the corner of Pembina and Trappist. It was a building with character and may have been saved had we been aware that it was to be demolished.
Then there was the development proposal for the property that now includes Place Saint-Norbert and the property owned by the Behavioral Health Foundation.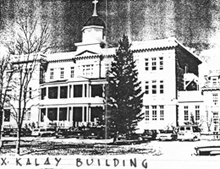 Castlewood wanted to build over 200 homes on the site and tear down the buildings that are there in the process. Because of our objections, Castlewood withdrew and Behavioral Health Foundation (then called X Kalay) was given a chance to buy the property.
Because of these events, we began discussing the establishment of an organization that would make it its business to keep track of community happenings and generally promote what we believed to be the interests of the community. We initially talked of having a local Chamber of Commerce but settled on a structure that was broader in its mandate. We set forth the following objectives and had a constitution drawn up that included them:
To promote and preserve the identity and the historic aspects of the community of St. Norbert.
To guide and assist in the future planning and the development of the St. Norbert area.
To promote, implement, organize and manage projects, activities, programs and facilities consistent with the above objectives.
To work in co-operation with any organization with similar objectives.
The constitution was signed on February 26, 1979.
In the more than 40 years following, many projects were undertaken. The recognition of St. Norbert has been greatly increased.
These efforts have brought to the community donations and grants in excess of $5,000,000 for the completion of its projects.