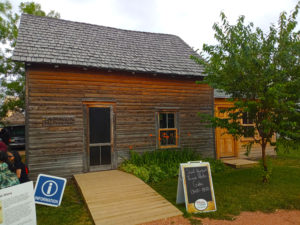 The McDougall family was among many Metis who relocated from the St. Boniface-St. Vital area to Lorette and other areas in Tache during the troubled years of 1868–70. Daniel McDougall, 27, found property to his liking south of the Seine River in 1869, staked his claim, and began plowing his field. By 1871, McDougall and his family had built a 20′ x 25′ log house and had taken up permanent residency.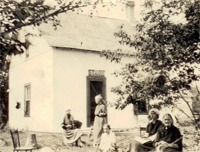 McDougall died on May 28, 1880, shortly after a train accident in St. Boniface in which he lost a leg. He left his wife and two sons with a lot, two buildings and some cultivated land. Three years after her husband's death, Mrs. McDougall and her teenage sons moved across the river and built a sturdy log house (19′ x 21′).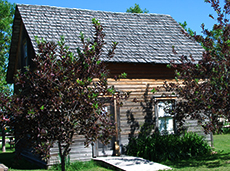 Heritage Saint-Norbert worked hard to raise the money to move and restore this piece of pioneer history. The house was moved from Lorette to its present location at Place Saint-Norbert. To help preserve the house, the second-floor joists were replaced and second-story flooring was removed. The house was also coated in lime whitewash to prevent insects. The house is now being used as a small museum; it is open to the public on market days.