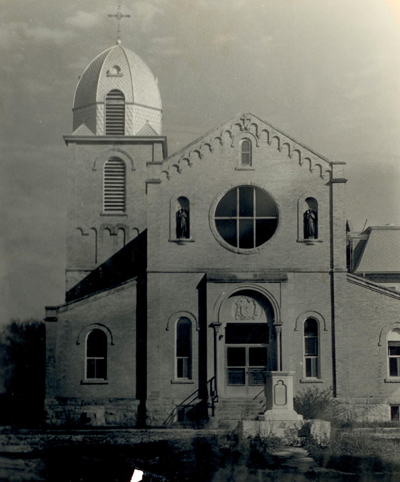 Father Ritchot had long hoped to establish a monastery on a secluded piece of parish land along the La Salle River. In 1891, Ritchot's hopes were realized. He and Archbishop Taché of St. Boniface persuaded the Abbot of Bellefontaine, France, to establish a home for Trappist monks in St. Norbert.
Through hard work and devotion, the monks of Nôtre-Dame des Prairies built the monastery into a prosperous agricultural operation complete with a sawmill, forge, apiary, cheese house, bakery and greenhouses. Themselves vegetarians, the monks sold meat, dairy products, honey and their world-famous cheese to the outside community. The monks, ranging in number from thirty to forty-five, perfected their skills as gardeners, carpenters, ironworkers and decorative artists.
The monastic buildings constructed by the Trappists are examples of unique religious architecture in Manitoba. The buildings' austere and restrained French design was consistent with the Cistercian spiritual values favouring simple architecture and minimal decoration.
The first monastery building, constructed shortly after the monks arrived in 1892, was a three-storey wooden structure on a stone foundation which featured a chapel, porch and bell tower. It was adapted as a house for guests in 1904 when the monks moved to a larger residence built nearby.
In the Trappist tradition of hospitality, the guest house welcomed church officials, the monks' families and individuals on retreat. In 1912, the guest house was destroyed by fire. The monks replaced it immediately with a new guest house, the building now occupied by the St. Norbert Arts Centre.
More Information