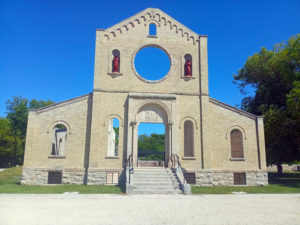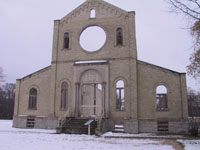 A major issue was immediately before us. The Trappist Fathers had vacated their monastery to move to Holland, Manitoba.
The growth of St. Norbert had impacted their way of living that was strongly orientated towards a quiet existence. Their very imposing structures needed a use. Until one was found, it was important to keep them safe from misuse. We worked hard to get Genstar, who had purchased the property from the Trappists, to place a twenty-four hour guard on the property. They did this reluctantly and only intermittently. At a time when the protection was absent, some young people got into the main structure, lit a fire, and the building was destroyed.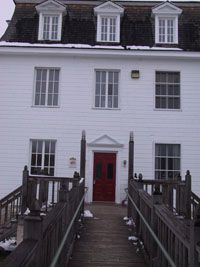 What remained at the site was the guesthouse: a three-story building that was structurally sound but also very vulnerable to vandalism. Genstar was anxious to get rid of any responsibility for the site. They arrived at an agreement with the Province to have the Province take over the ruins. Genstar had been paid insurance money which they invested in stabilizing the structure.
Heritage Saint-Norbert lobbied for plaques to describe the past use of the site. Thus, the ruins became a park that has continued to be a quiet place of refuge and meditation.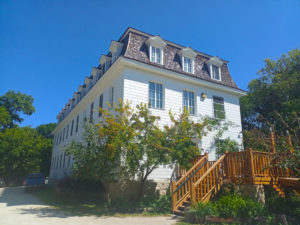 The Guest House served temporarily as housing for Polish immigrants and for X Kalay residents during renovations to their main building. From time to time, the Guest House was vacant and a major worry for Heritage Saint-Norbert. Fortunately, a group of young people decided to create a suite on the second floor so they could live in it and protect it from damage. The property was purchased from Genstar and plans were developed to restore and upgrade the building to create an arts centre. It has operated since as the St. Norbert Arts Centre.